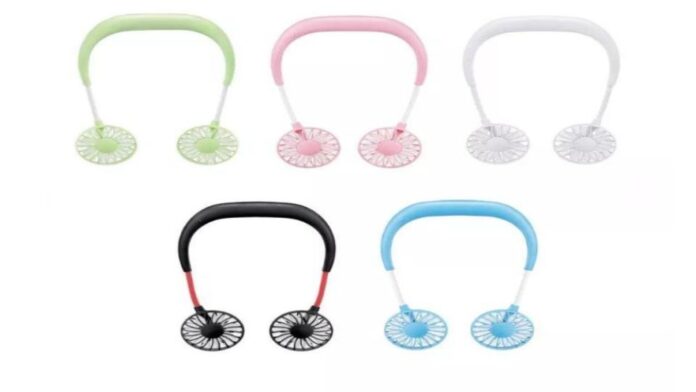 Sweat becomes unbearable while working in the hot summer, and there's no other way to solve it except by keeping one's body relaxed. Air fans are just a formality and can't help you stay calm when working in high-heat environments.
Sweat gets into your eyes, clothes, and skin and becomes an irritant wherever you go. So why not use an air fan that's incredibly easy to use? A neck fan is a solution for a smart way to cool your neck and upper body. The ultra-quiet neck fan is designed to blow air to your body, cooling you up.
Benefits Of Neck Fan
Neck fans are a fashionable and convenient way to help you stay cool on warm days. The main benefit of the neck fan is that it enables people to cool themselves without using a lot of energy or moving around.
It also saves money on electricity by not running your air conditioning unit or cooling fans all day. They come in different colors, so you can express your style while staying comfortable. Some significant benefits of a neck fan are as follows:
· Essential For Sports Persons
It is not just for the people sitting in the stadium or in their homes to watch sports. Still, a neck fan is perfect for fitness enthusiasts, working professionals, and anyone looking for complete relaxation.
It is essential for a sports person because it gives cool air at your neck so that you don't feel the heat during a workout and perform better with concentration.
· Lightweight
Neck fans are lightweight, simple, and convenient. They can easily be carried around in a bag or pocket and used as needed. Neck fans weigh less than most water bottles, so you can have them with you wherever you go.
The fan includes a neck strap to wear comfortably around the neck, so that both of your hands can be freed easily for other things.
· Keeps Sweat-Free In Cooking Time
Neck Fans are designed for cooling your sweat in the kitchen, be it on the grill or your stovetop. Neck Fans keep you cool during cooking time, providing a safe and comfortable environment.
They are designed to allow you to focus on the food, and they create a breeze of air to help prevent sweat from accumulating on your skin.
· Hand-Free Device
It's summer, and it's hot. But you can make the heat more bearable with a hand-free device. Using a neck fan puts cool air in your hands while keeping them accessible. The neck fan is designed to be used while holding on to the handle of another everyday object.
It includes a fishing rod or golf stick. It means that you do not have to hold it in your hand or use two hands.
· Re-Chargeable Interface
A neck fan is like a battery-powered fan that charges. It means that the fan can be charged via a USB cable provided in the package. Once charged fully, the product can run for approx. Thirty hours without any wire attached to it.
A rechargeable neck fan is a solution for your neck and back comfort without any hassle of no electricity.