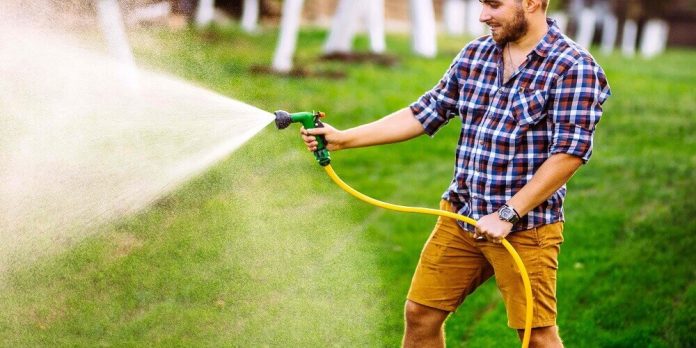 Choosing a nozzle for your hose is difficult, considering the number of options you face when you try and buy one. A 9-mode nozzle, a dial nozzle, and a fan nozzle are just a few of the different build types of a nozzle for a garden hose. However, we are not going to talk about the design; instead, we are going to talk about the material.
If we start talking about the different design types, we will be here for hours because there are hundreds of different garden hose nozzle designs. But, we will discuss the material because there are only three types of nozzle for a garden hose.
If you can decide which material nozzle you want for your garden hose, choosing which design you want becomes easier. Once you decide you want a metal nozzle, your options slim down because not every brand makes a metal nozzle; and the same goes for plastic and hybrid nozzles.
So, which material is the best nozzle for a garden hose? That's for you to decide. According to your usage, you might feel a plastic nozzle is better than a metal nozzle, or vice versa. We will provide you some details about all three materials used for making hose nozzles, just so you can gather all the information before buying a nozzle for your hose.
Metal:
It's no secret that metal is highly durable, and a metal nozzle will last long, provided you choose the right type of metal. If you buy a metal nozzle made from iron, it will eventually start to rust, causing blockages to water flow, and in the end, just falling apart. Hose nozzles made from aluminum, copper, and zinc are the best choices if you want a durable nozzle, zinc being the best choice.
Aside from build, you get the option of insulated handles to protect your hands from the metal. In short, there are a lot of choices within the metal nozzle category. A zinc nozzle with plastic or rubber handles for comfort will be a perfect choice.
Plastic:
Plastic nozzles are the cheapest nozzles out there. Just like any other cheap product, these plastic nozzles won't last too long as well. A plastic nozzle for your garden hose won't be able to handle high water pressure. Plastic nozzles do just fine against low water pressure, but they rarely last more than a season.
Secondly, a plastic nozzle for your garden hose won't do so well against the sun. With each passing day under the sun, the nozzle will start to crack slowly and eventually break down. We have no idea who the manufacturers target with these plastic nozzles, but they are not a great choice for a garden hose.
Hybrid:
If you don't want to spend too much on a metal nozzle but still want the durability of one, you can always buy a hybrid nozzle made out of both plastic and metal components. A hybrid nozzle will mostly have metal components on the inside to handle the water and a plastic shell to lower the cost and bring a bit of style and comfort.
The metal interior means that even after prolonged use, the interior won't rust or deteriorate, and it will handle high water pressure well. The plastic body makes the nozzle lightweight and much more comfortable to hold. So, if you are on a budget, a hybrid nozzle of plastic and metal is your best bet.
Conclusion
These three different types of nozzles for a garden hose suit various users. We would say that as long as you avoid plastic nozzles, you are good to go for a couple of seasons. A metal nozzle is the optimal option, a hybrid nozzle is the second best, and a plastic nozzle should be a last resort.