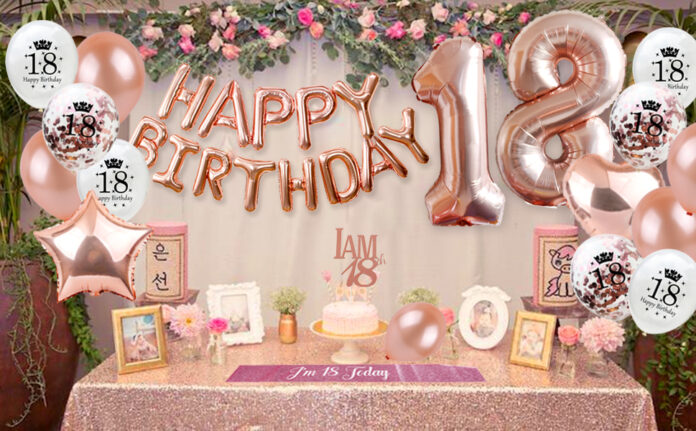 Do you ever observe that your party is missing something? Like it could use a little bit of personality or flair? One easy way to add some character to your events is by using decorative accessories. And if you're looking for some ideas, read on! In this post, we'll explore a few different ways to add some personality to your home with simple background decorations and some ways to decorate the background for events like birthdays, anniversaries, bridal and baby showers, etc. So, whether you're looking for something fun and colorful or something more subtle and understated, we've got you covered. Happy decorating!
5 background decoration ideas
You'll love these five ideas! From trendy plants to stylish wall art, there's something for everyone. So, the next time you're stuck on what to do with that blank space on your wall, try one of these ideas. You won't be disappointed!
Rose gold background
If you're looking for a brilliant idea to decorate a background for a party event, this idea is only for you. The rose gold color never goes out of style and looks aesthetic, too—whether with a naked eye or in pictures. You can get rose gold balloons and other same-colored decor accessories like letter foil balloons, birthday banners, foil tassels, balloon ribbon, etc. This rose gold background will stand out and make your party look more fun and alive.
Mirrors
Mirrors can be an eminent way to add depth to your home. It will also produce the illusion of a large space if it is hung across from another mirror. The mirrors reflect each other and make the room look larger than it is. There are small square-shaped mirrors available in every color, which covers the whole wall and look absolutely stunning. This idea is both great for party decoration as well as home décor.
Your Photos
Your favorite photos can be a great way to decorate your walls. This doesn't mean that you need to cover your walls with hundreds of random photos. Pick out 5 or 6 and give them some good consideration before popping them in an attractive frame and hanging them up on your wall. You can also get your pictures converted into polaroid form and set them on the wall in interesting ways. If you are having your 18th birthday party, you can put up your picture from different occasions with friends and family and go down memory lane. This seems like an amazing idea.
Flower background
A flower background could look incredible for events like bridal showers or engagement parties. But if you are doing a mixed color flower background, then make sure you choose colors that complement each other and look beautiful while combining. Choose fully blossomed and fresh flowers, if you are doing a solo flower background like a red, rose on a green leaf background. This background will look extraordinary.
Curtain Background
This decoration may sound simple, but it looks quite pretty after it is finalized. You may use a second color on the background curtain to further enhance the look. A white net curtain could also be used on any color to make the arches, as white goes with every color.
Conclusion
The decorated backgrounds don't have to be extraordinary every time. Sometimes simple looks more beautiful. But if you really want to go out of the box to decorate your backgrounds for events or even for home décor, try one of the ideas that is given above that you loved the most.