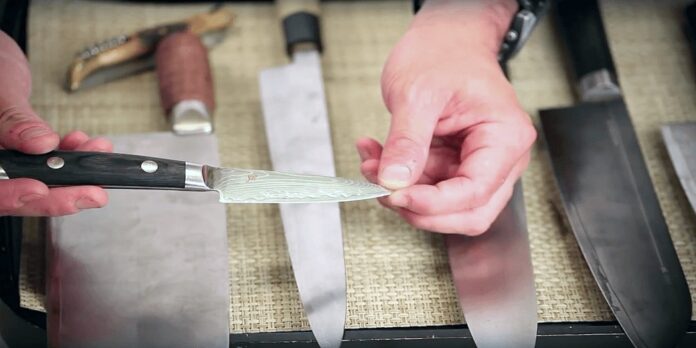 Among the numerous kitchen equipment, knives are one of the most important pieces. Every kitchen needs one or more knives to function properly.
The saying 'less is more is very applicable when you talk about the good chef's knife and any other knife that should be in your kitchen.
You do not need to have all the different types of knives in your kitchen. All you need is a few essential knives that will do all that needs to be done conveniently.
With a few essential knives, you can enjoy slicing and cutting any food that needs to be cut with utmost ease.
New to cooking or knew to knives, professional, or just need an upgrade, here are the few must-haves for your kitchen.
Essential Knives You Should Have
1. The Chef's Knife
You have probably seen this knife more times than you can imagine. the chef's knife is the most used type of knife.
This is because the chef's knife is used in most homes and places where knives are used. It is popular because it can be used for more than one task.
It will be wise to invest in a chef's knife. Find a high-quality chef's knife, buy it and take good care of it. you will not have to think of buying a knife in a long time.
The chef's knife can be used to slice and chop anything that needs to be sliced or chopped. In some cases, it is also used for carving.
Make sure that any chef's knife you buy is strong but not heavy. make sure it is not too long or too short and has a great feel on the handle.
Everyone wants a knife that works for them. Yours should not be any different. You should feel comfortable holding your knife.
You should also feel comfortable using your knife. That is why it is important to make the right choice of knife.
2. The Paring Knife
The paring knife is not as popular as the chef's knife. It has a shorter blade and is relatively smaller than other knives.
The paring knife is used for jobs that require you to be precise. It is a fitting knife for precision jobs because of its small size and well-structured edge.
This should be your choice too. Take time to find one with lightweight and a short blade. The blade of the paring knife makes it easy for peeling and trimming too.
3. The Serrated Knife
The serrated knife is also known as a bread knife. This knife has a saw-like blade, usually long and nice to look at.
The bread knife or serrated knife is used to cut through hard and soft foods. The blade is grooved remains sharp for a long time.
When choosing a serrated knife or bread knife, remember to go with a knife with a great feel in your hand. It should be the right length as well.
Conclusion
If you must have more than one knife in your home like many other people, make sure it is the chef's knife, the paring knife, and the serrated knife. With these, all your knife tasks are taken care of.